Wreck-Age Blog
Wreck Age October 2016
Published on 25 October 2016
Hello Everyone,
Welcome to the new blog! We try and keep busy here at Hyacinth but it can be difficult to keep up with our myriad of social media platforms. 
October 2016 has almost come and gone, and there were a few notable events and some traction in our projects that are in the pipeline. I attended a few events here in the Midwest including Valor Con here in Chicago (https://www.facebook.com/valorconchicago/) and NEWGame (http://newgameapalooza.com/) in Oshkosh Wisconsin. The world also passed the 400PPM threshold so Wreck Age is coming true and we are all going to die horribly. 
Doing a local event like Valor Con is always great because you meet local gamers and can contribute to your local scene by participating. Taking the Blue line in was certainly convenient as well as the event was located on the 9th floor of the Macy's downtown. Our table was situated by the Giga-Robo (http://gigarobo.com/) guys who are another local outfit you may have seen on Kickstarter. You should check them out if you like throwing giant robots into buildings. They made a fun game and hanging out with them before and after the con was a just delightful. Hopefully Valor Con continues for years to come and we can meet other local indie gamers like them. Thanks to Josh Lopatin and Tim Mayse-Illig for helping out Anton and I. 
NEWGame was a bit more of a trek and I must admit more of a social outing for me, as I only ran demos on Saturday. I primarily headed up north to see my friends Adam and Sam who live up there and the gaming was secondary, but the con was pretty cool! Oshkosh really does have a great gaming scene and I have to admit I am a bit jealous of the amount of game stores they have in the area. Also cheese curds. Before getting in some very quality demos on Saturday Adam and Sam took me to the Reptile Palace which very much reminds me of Chicago's Empty Bottle. We may have ended up there Saturday night as well. 
Yeah, I am wearing the same shirt. I like Bad Brains quite a bit. Adam is on the left- you may know him from his great Youtube Channel Tabletop Minions (https://tabletopminions.org/). Sam is the right side of the sandwich, he is a very talented freelance painter who has done stuff for Wreck Age in the past (http://samsonminis.blogspot.com/).
In productivity news the Hyacinth crew has been chugging along at a good pace. John is putting the finishing touches on some Shangri LA rules, I have been play testing Uprisen and fixing all of my tense errors and Anton is rounding third on the Switch City supplement. We as always have a bit of an art and play testing bottleneck, so if you think you would like to jump in just shoot an email to This email address is being protected from spambots. You need JavaScript enabled to view it. and we will put you to work! Anton has been showing me some great stuff from the concept artists we have working, hopefully I can share some of that with you soon. 
We had a few interviews and internet coverage as well- Dawn and Gianna met with us for the Beasts of War Weekender (https://www.youtube.com/watch?v=mASuV4GHQl4) and the aforementioned Tabletop Minions showcased some painted Stakers (https://gaming.youtube.com/watch?v=cwGu7sXhRR4&feature=live-chat-promo). Would you like to review one of our products? This email address is being protected from spambots. You need JavaScript enabled to view it..
Upcoming Events! We will be running demos Sunday November 6th at Greenfire Games (http://greenfiregames.net/) in Oak Lawn, IL. This is a new shop that is really psyched to have us and a few other locals. You can find out more at- https://www.meetup.com/chicagogames/events/234996668/
We will also be running demos as well as doing a paint and take at the Impossible Industries Fall Games Day (https://www.facebook.com/Impossibleindustries/) on Saturday November 12th. This is my FGLS and is near and dear to my heart, so I hope this event fires off like the last few have- https://www.meetup.com/chicagogames/events/233565850/
New product! We have also repackaged many of the Drifter blisters into the Vanguard box set: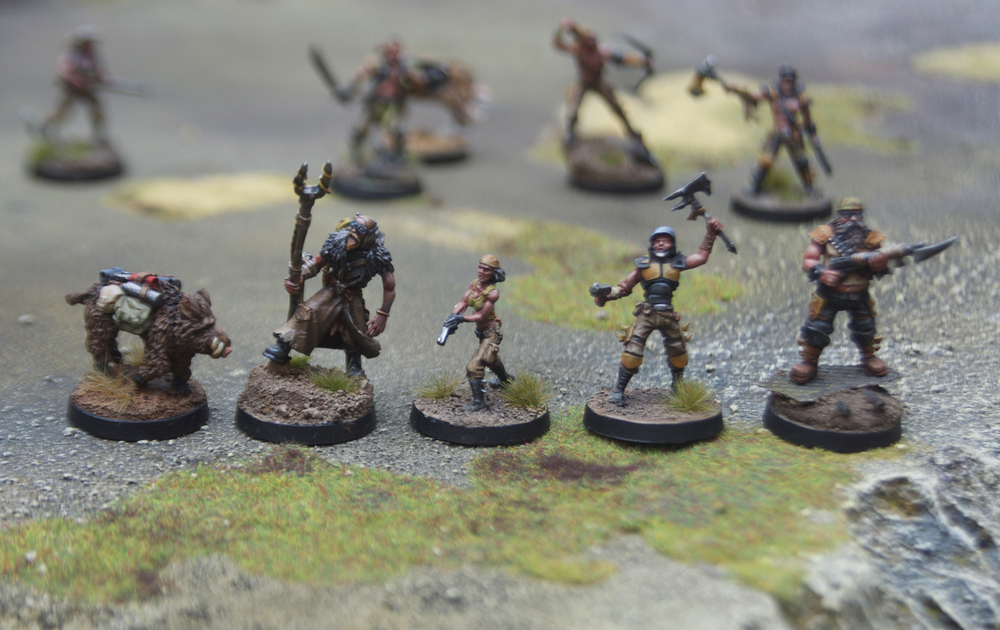 I hope we get a game in soon. 
-Matt